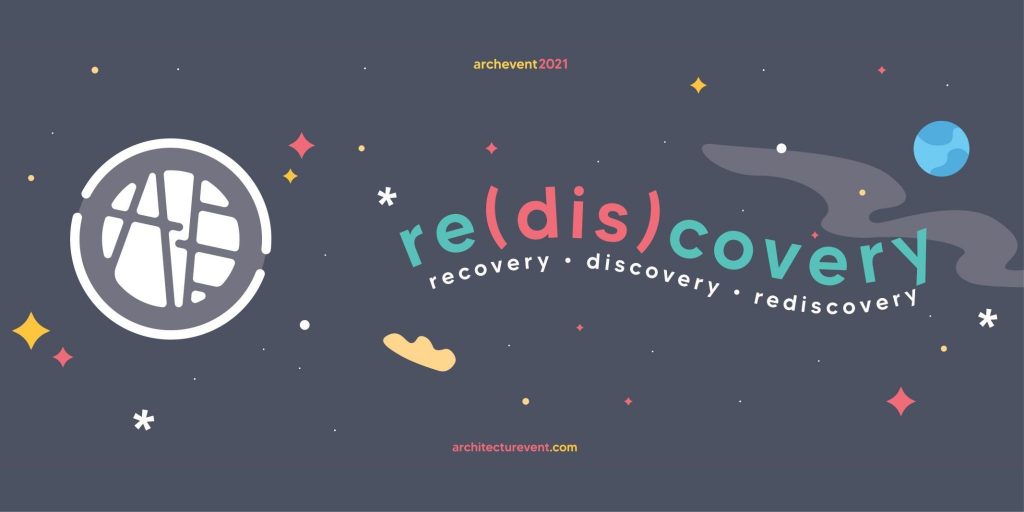 Archevent (Architecture Event) is an annual event organized by the students of Architecture Department, Universitas Sebelas Maret (UNS), Indonesia, as a forum for students, academics, practitioners, and others who have interest in built-environment discipline in creating, innovating, exchanging ideas, and gaining new insights. Our main event consists of a design competition, webinar series, and editorial.
Natural disasters have been a major issue all around the world, in particular, South East Asia countries. It is known that natural disasters and mental health are often linked due to the profound effect on someone's life of traumatic events. It includes the mental health of survivors who risk losing their identities in the aftermath of a natural disaster. Those mental health adverse effects can manifest as mental instability which can have a detrimental impact on a person's productivity.
As a result of this phenomenon, healing architecture can support post-natural disasters recovery as it emphasizes the correlation between the user, and the user and the environment. Healing architecture is a method that implements architectural elements to support the healing process and meet the needs of patients, based on a few principles: spatial legibility, privacy, dignity, and company, view and nature, environment, appearance (Lawson, 2010).
The concept of healing architecture will aid in the user's psychological recovery. As a design solution, the idea is intended to assist post-natural disaster trauma victims in regaining a sense of purpose or improving their quality of life. A person who has experienced post-disaster trauma can recover over time but depends on ability and willpower, which is called resilience. The resilience of natural disaster victims becomes the main purpose in applying the healing architecture concept. Furthermore, it plays a key role to create a building design that integrates natural elements, five senses, and psychology.
EVENTS

Design Competition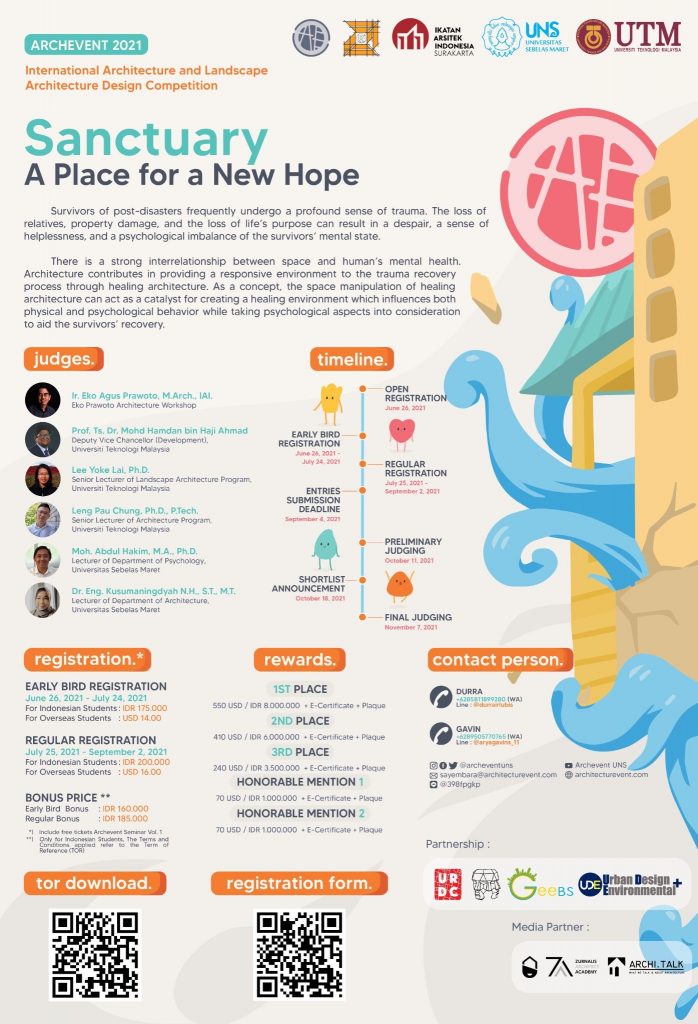 Archevent 2021 Design Competition raises the theme of "Healing Architecture for Human Resilience". This competition aims to respond to the issue of post-natural disasters' victims recovery through the concept of healing architecture. The Preliminary Judging is a closed judging round to select 15 teams, with the Top 5 teams advancing to the Final Judging. The Final Judging with the top 5 teams presenting their designs is an open judging round through an online platform.
Judges of Archevent 2021 Design Competition:
1. Eko Agus Prawoto M.Arch, IA
    Principle of Eko Prawoto Architecture Workshop
2. Prof Ts. Dr. Mohd Hamdan Bin Haji Ahmad
    Deputy Vice Chancellor (Development) Universiti Teknologi Malaysia
3. Lee Yoke Lai, Ph.D
    Senior Lecturer of Landscape Architecture Program Universiti Teknologi
    Malaysia
4. Leng Pau Chung, Ph.D, P.Tech
    Senior Lecturer of Architecture Program Universiti Teknologi Malaysia
5. Moh Abdul Hakim, M.A., PhD
    Lecturer of Department of Psychology Universitas Sebelas Maret
6. Eng. Kusumaningdyah N.H., S.T., M.T.
    Lecturer of Department of Architecture Universitas Sebelas Maret
Registration Form
http://bit.ly/RegistrationAE2021
Term of Reference
http://bit.ly/TORAE2021
Contact Person :
Durra: 085811899280 / @durrairlubis (Line)
Gavin: 089505770765 / @aryagavins_11 (Line)
Webinar Series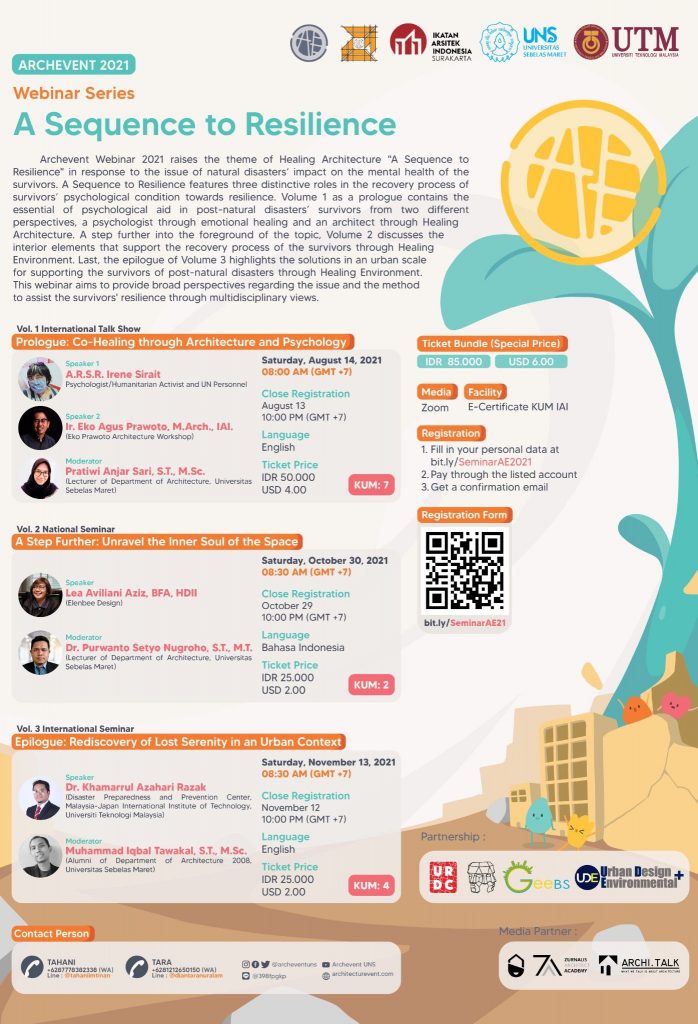 Archevent 2021 Webinar is one of the events that is held annually which aims at students from all disciplines, especially built-environment discipline (architecture, landscape architecture, urban planning, etc). This year, the seminar and talk show raise the theme of "The Psychological Impact of Architectural Design". Archevent 2021 seminar and talk show aims to generate a discussion on healing architecture as a concept where buildings can help the psychological healing recovery of post-natural disasters' victims. The webinar is in series which is divided into three volumes with each distinctive purpose in different perspectives.
The Webinar Series "A Sequence to Resilience" consists of three volumes. Each volume represents different perspectives from psychology, architecture, interior design, and urban planning. The overall topic presents a response to natural disasters that have an impact on the mental health of the victims. Volume 1 contains the essence of psychological aid in post-natural disasters survivors from two disciplines, psychology and architecture. Volume 2 discusses the interior elements that support the recovery process of the survivors. Last, Volume 3 highlights the solutions on an urban scale for supporting the survivors of post-natural disasters.
Webinar Volume 1 "Prologue: Co-Healing through Architecture and Psychology" on an International scale on Saturday, 14 August 2021.

Webinar Volume 2 "A Step Further: Unravel the Inner Soul of the Space" on a National scale on Saturday, 30 October 2021.

Webinar Volume 3 "Epilogue: Rediscovery of Lost Serenity in an Urban Context" on an International scale on Saturday, 13 November 2021.
Registration Form
http://bit.ly/SeminarAE2021
Close registration: D-1 (10.00 PM)

Contact Person :
Tara: +6281212650150 / @diantaranuralam (Line)
Tahani: +6287778382338 / @tahaniimtinan (Line)

TIMELINE

| | |
| --- | --- |
| Archevent Design Competition 2021 | 26 June 2021 |
| Talk Show Archevent 2021 Vol. 1 | 14 August 2021 |
| Entries Submission | 4 September 2021 |
| Preliminary Judging | 11 October 2021 |
| Preliminary Judging Announcement | 18 October 2021 |
| Seminar Archevent 2021 Vol. 2 | 30 October 2021 |
| Final Judging | 7 November 2021 |
| Seminar Archevent 2021 Vol. 3 | 13 November 2021 |

OUR SOCIAL MEDIA
Instagram: @archeventuns
Facebook: @archeventuns
Twitter: @archeventuns
Line: @398fpgkp
Youtube: Archevent UNS
Tiktok: @archeventuns
Website: http://architecturevent.com/
Email: archevent4@gmail.com